The CMS Club will meet on Monday, Nov. 14 at 6:00. All are welcome! We need parent volunteers!!

Athletic Schedule for 11/14-11/18 Please note that not all practices are at Caravel Middle School . We will begin Chess as soon as we can find someone who wants to lead a great group of kids!!!! Cheering starts on Monday- athletes who have not provided an updated sports physical cannot start on Monday.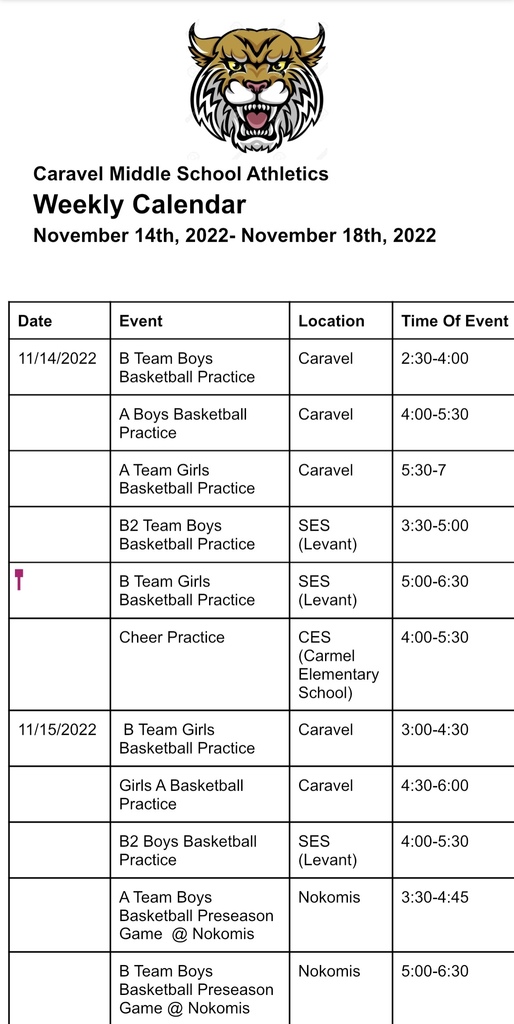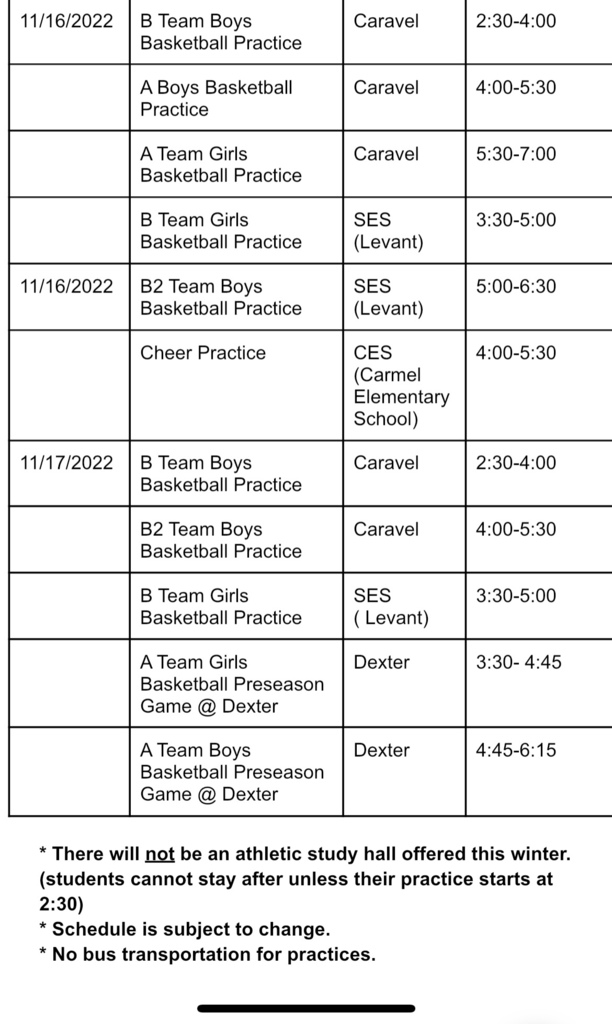 Update on soccer game times for tomorrow. Boys will start at 3:15 @ Orono Girls will start at 4:30 @ Bangor Christian




FYI- Our busses are running late getting children home today. We apologize for any inconvenience. They will be about 20 minutes late.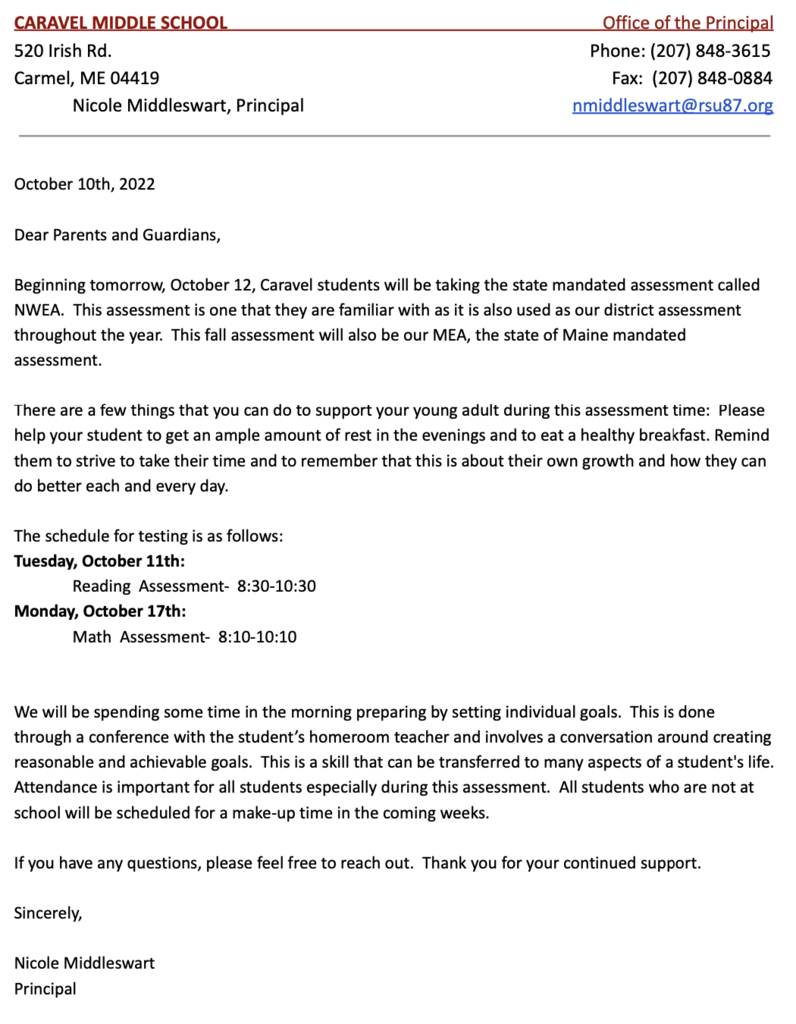 Reminder that tomorrow, Friday 10/7 is an early release day. Students are dismissed at 11:30!

This week in recognition of Attendance Awareness Month, we will be challenging students to dress up to bring attention to attendance!!! There will be a grade level competition to see which grade level has the most students who participate!!!! Monday- PJ Day Tie Dye Tuesday Whacky Hair or Hat Wednesday Think Ahead Thursday- Dress up like your future career Flannel Friday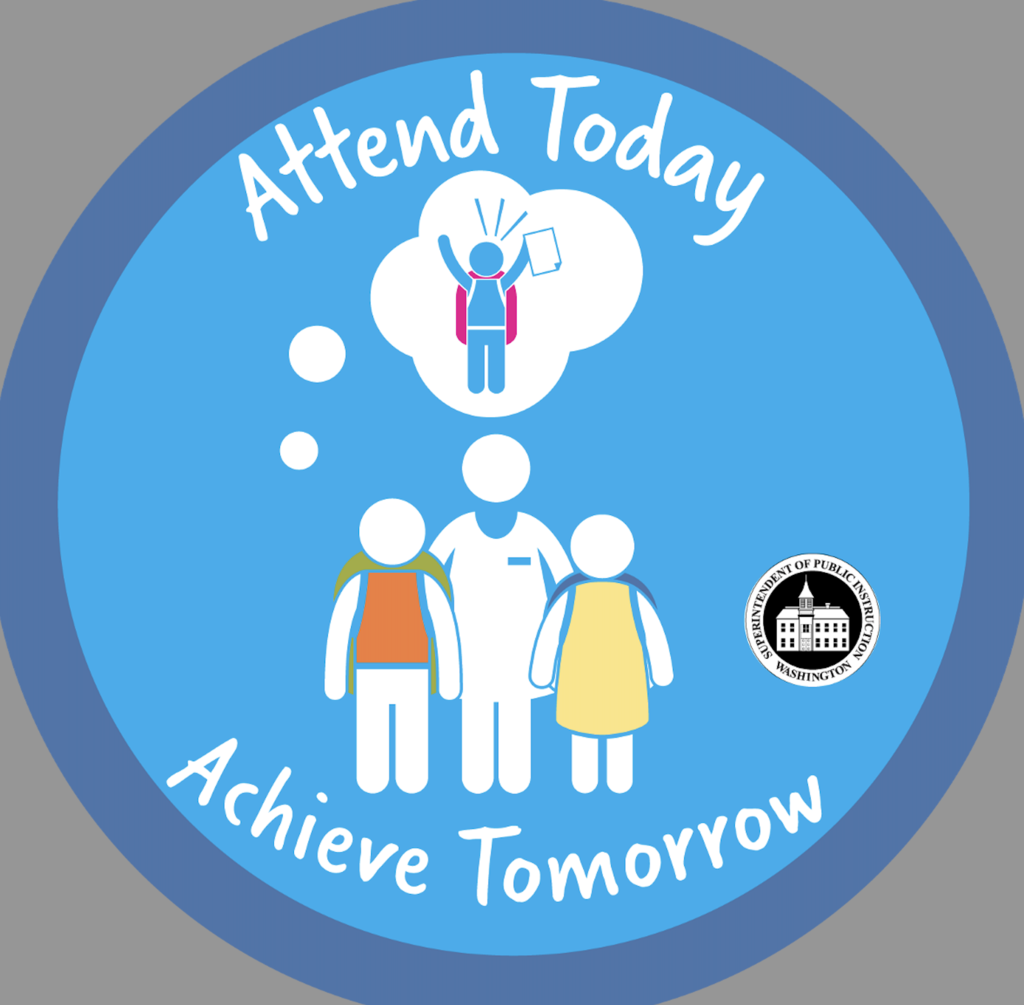 Athletics update Sept. 26-29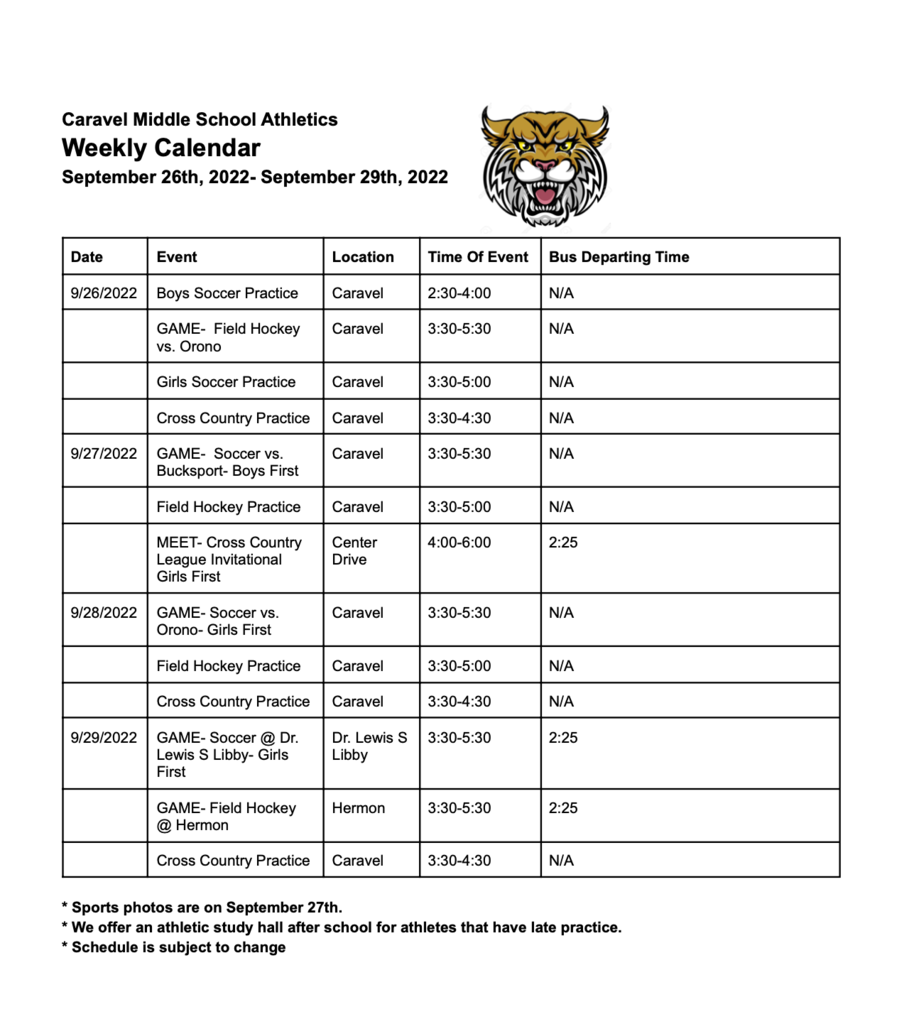 October breakfast and lunch menus!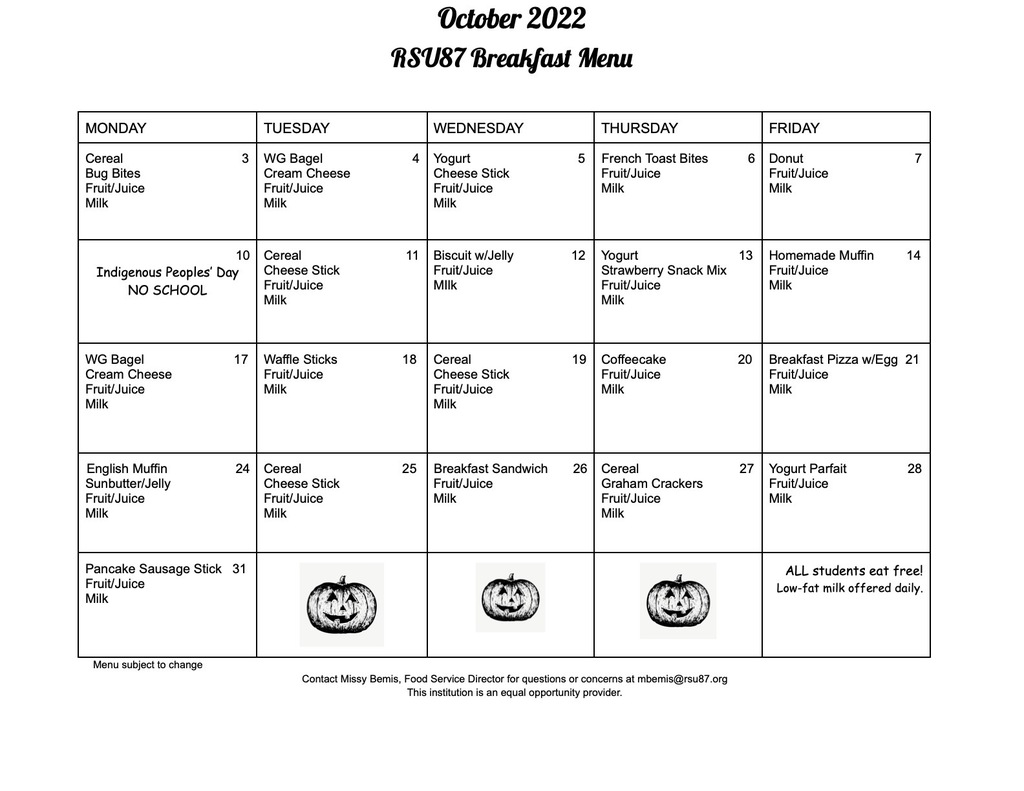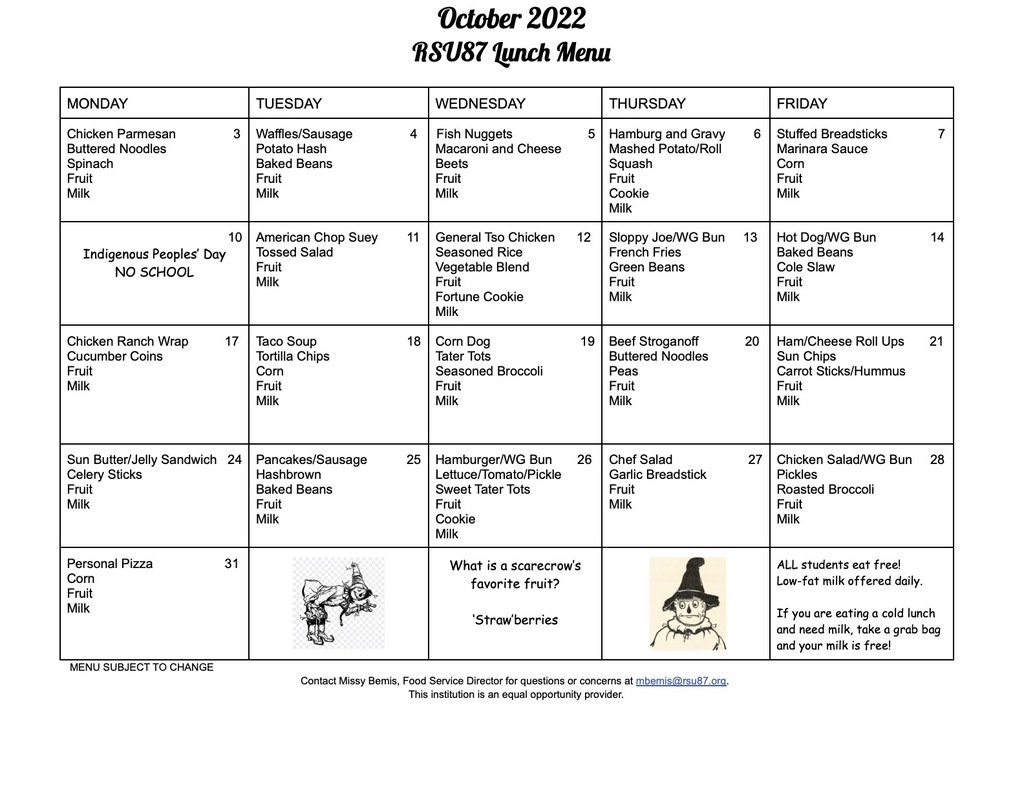 The soccer game has been postponed for today. There will be no Boys soccer practice and no field hockey. Girls soccer will practice inside from 2:30-4:00. Cross Country will practice inside from 3:30-4:30.

Open House- 9/21/22 begins at 6:00 in the gym at CMS

Save the Date!!!!
September 2022 Breakfast and Lunch Menus!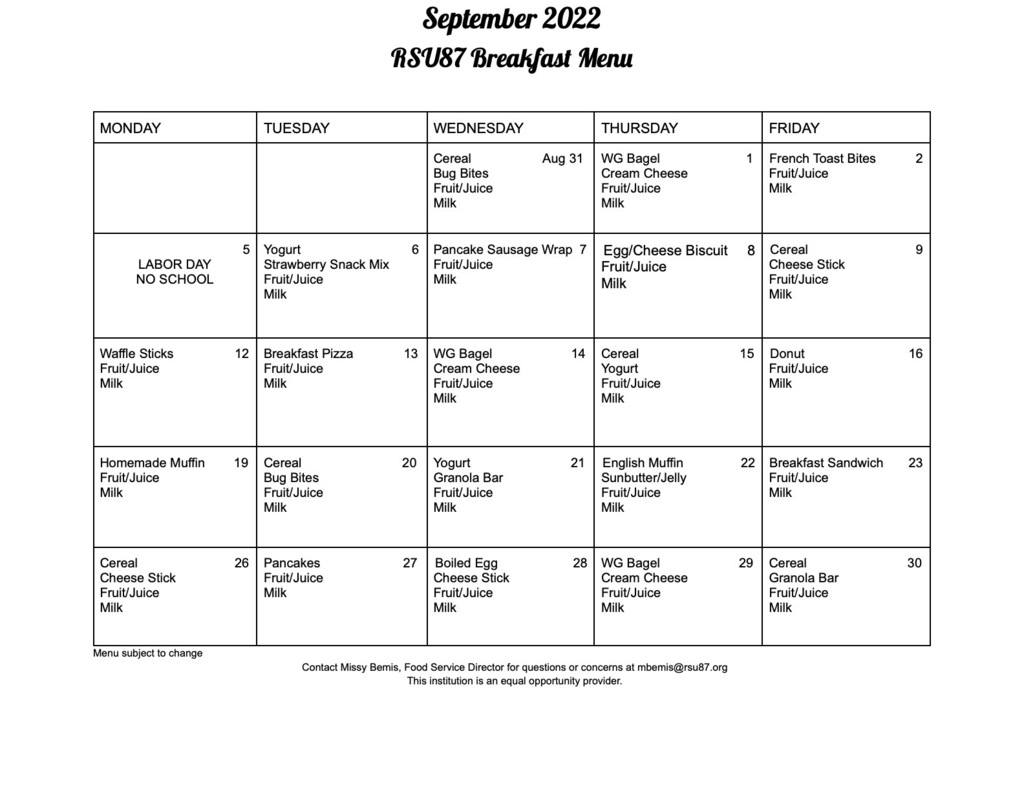 RSU 87 is in DESPERATE need of substitutes! Want an opportunity to make a difference in our kids' lives? Please consider filling out an application to be added to our district sub list! Substitute teachers play a far more important role in schools than simply covering classes, they ensure that our students have all of the resources they need to be successful.When schools are short staffed, everyone has to work together to cover the open periods.This takes resources away from others and impacts the quality education we strive to provide for our students. If you're interested in making a positive impact on the kids in our communities please consider signing up to sub today! Pay rates are $96 for regular substitutes and $101 for those with a college degree, and all substitutes will be required to be fingerprinted. Please fill out our substitute application located at rsu87.org, under the "Documents" tab, and return it to our Central Office, 44 Plymouth Road, Carmel, ME 04419, to get the process started!