Back to School Night was a success! The bike raffle winners are very excited!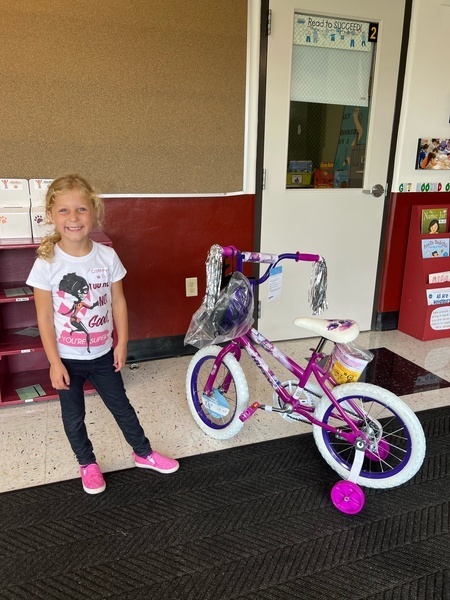 "I Scream, You Scream, We All Scream for Ice Cream,"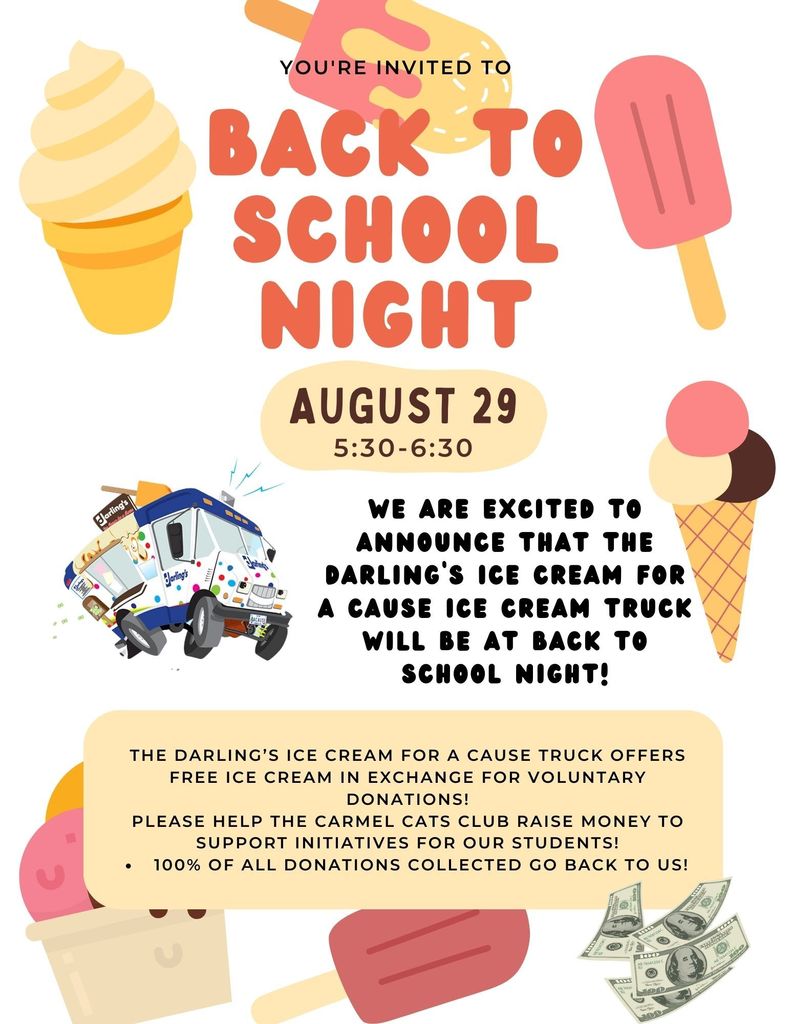 A talented Levant, Maine based student could soon have her art on the Google homepage for hundreds of millions to see. HOW EXCITING! To help Evelyn succeed, everyone across the U.S. can vote for their favorite Doodle from the 54 State and Territory Winners. Voting will be open from May 18-25 on this site:
https://doodles.google.com/d4g/
and the public vote will determine the Five National Finalists (one in each grade group). Google will announce these five National Finalists in late May, one of whom will have their Doodle featured on the Google homepage for a day. Vote Here:
https://doodles.google.com/d4g/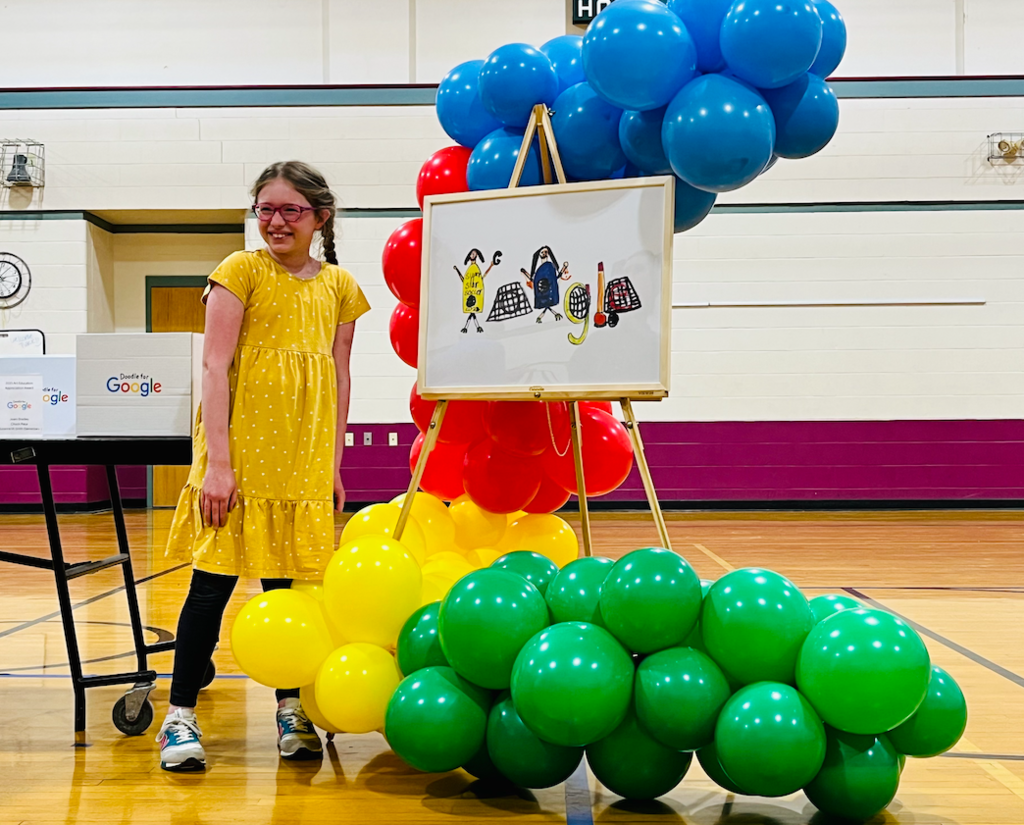 12/21/22 It's the Most Wonderful Time of the Year! Grades 3 & 4 Concert Tonight! 6PM - Doors open at 5:30! Wear Performance Attire (comfortable but a little more dressy than what they would wear to school).

RSU 87 is in DESPERATE need of substitutes! Want an opportunity to make a difference in our kids' lives? Please consider filling out an application to be added to our district sub list! Substitute teachers play a far more important role in schools than simply covering classes, they ensure that our students have all of the resources they need to be successful.When schools are short staffed, everyone has to work together to cover the open periods.This takes resources away from others and impacts the quality education we strive to provide for our students. If you're interested in making a positive impact on the kids in our communities please consider signing up to sub today! Pay rates are $96 for regular substitutes and $101 for those with a college degree, and all substitutes will be required to be fingerprinted. Please fill out our substitute application located at rsu87.org, under the "Documents" tab, and return it to our Central Office, 44 Plymouth Road, Carmel, ME 04419, to get the process started!

Mrs. Elwell would love your help! A Message from our Music Teacher Mrs. Elwell: I am looking for a family who would like to volunteer to be a part of a graduate school project I am working on this summer. This project would include a brief interview with the student and their guardian(s) regarding their educational, cultural background. Basically, I want to know more about my community and the lives they live outside of my classroom! This class focuses on the wide range of diverse learners we have in our classrooms and communities, so my interview will include 5-7 questions about your particular family's educational experience, your goals for the education of your student, and the unique knowledge and background your student and family brings to the RSU 87 community. This project is not a diagnosis of problems, but rather a way for me to make sure that my planning recognizes, honors, and reflects the many different cultures that my students come from and bridges the gap between "school music" and "home music", so that students see themselves represented in my classroom materials and learning. If you are interested in participating please send an email to
belwell@rsu87.org
.




Pediatricians Share: What Parents Need to Know about the COVID-19 Vaccine for Children The CDC has recently recommended 5 to 11 year old children receive the COVID-19 vaccine, offering a way for parents to protect their children and families from COVID-19 infection. Join MECAP for a forum featuring Maine pediatricians as they share information about children and the COVID-19 vaccine and give advice on what to consider when making the decision to vaccinate children against COVID-19. There will be time for questions from the audience. Speakers: Gretchen Pianka, MD, MPH, Pediatrician at Central Maine Pediatrics Jillian Gregory, DO, Pediatric Critical Care Physician at Maine Medical Center Sydney Sewall, MD, MPH, Pediatrician at Maine General Health Michael Ross, MD, Pediatrician at Northern Light Pediatric Primary Care Moderator: Claire Berkowitz, President, Midcoast Maine Community Action WHEN: Tuesday, November 9, 2021 from 6pm--7:15pm EST WHERE: Via Zoom, register at mecap.org/events to receive the webinar login information.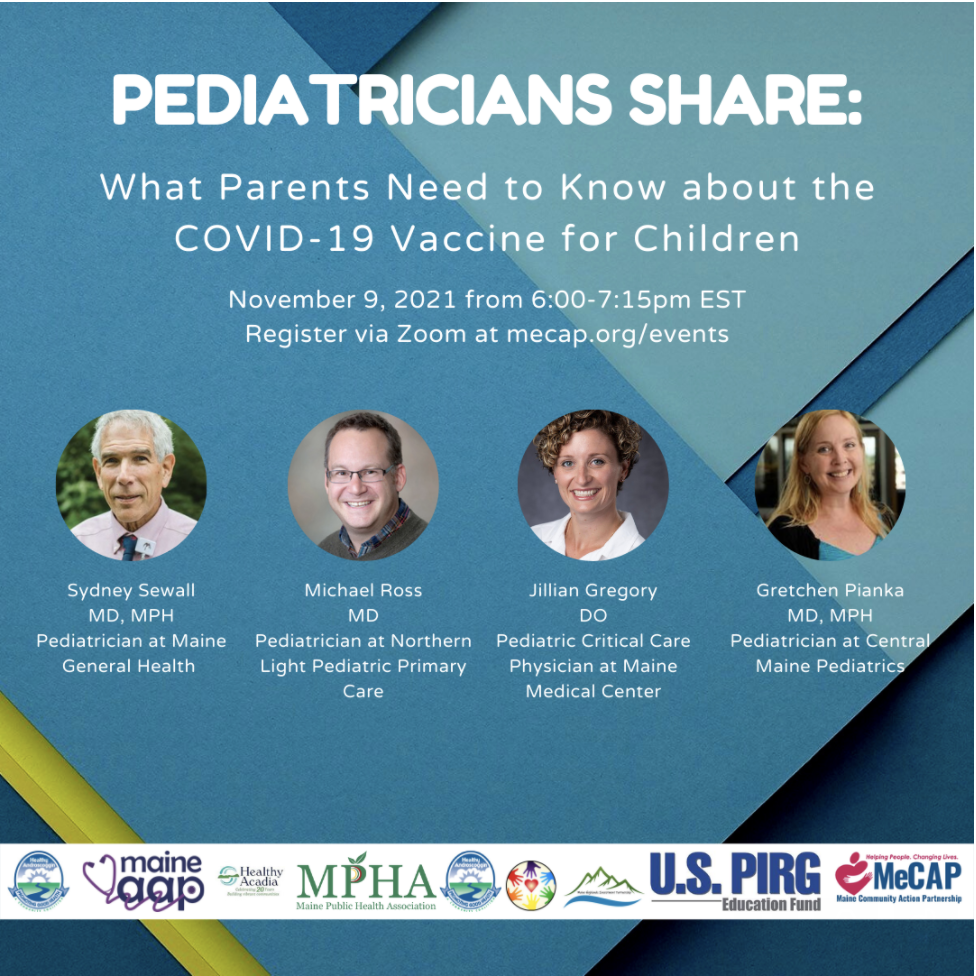 Next week we will have a NWEA Spirit Week! We want to promote a positive mindset for testing. Monday 10/4, Shine Bright on the Test: Wear your brightest colors! Tuesday 10/5, Career Day: Dress as a career you want to have when you're older. Wednesday 10/6, Don't Sweat the Test: Wear workout clothes. Thursday 10/7, Throwback Thursday: Dress in a different decade outfit.